Testimonials
Marcos,
This is simply a thank you note. I purchased a small lot of Bob-O-Link Nature Friendly PB Mokka from Burman Coffee. It roasted beautifully and I must say is probably the most flavorful coffee I've tried over the last several years.
Thank you for making this experience possible.
Larry Lilly
Hi Marcos!,
I hope you, Silvia and the family are really well!
As I sit inside, trapped at my desk in central London on a beautiful summer's day, I am enjoying a fine cup of coffee from my favourite independent coffee shop, and yes. you guessed it! I am drinking a fine Fazendas Bobolink coffee! Almost as good as I remember it! I can't believe it is now over a year since I spent those wonderful weeks at FAF, an experience I will never forget and cannot thank you enough for!
I hope you are all in fine form and the business continues to grow from strength to strength!
Hopefully see you again sometime soon!
Kind Regards
Ed
Hey Friends,
I hope you are well!
Every morning when I drink my cup of coffee I´m very happy with my best coffee. And every day the BOBOLINK finds new friends! Great!
Have a good time!
Fresh roasted Regards,
Ronny.
Kaffeerösterei Alber
Inh. Ronny Alber
Kees`scher Park 1
04416 Markkleeberg
Tel.: 0341- 2008022
mobile: 0178- 3355631
Email: info@alcaffe.de
www.kaffeeroesterei-alber.de
April 16th, 2014
Hello, Check this picture, is where I was on the weekend The roastery of Tarbes was celebrating their 30 years, and they invited me to come
The mother has 70, until some years ago was she still in charge of roasting. They have hired a roaster now. The daughter on the right has now taken their coffee shops... and you can see already his son spending the Saturdays with the roaster.
If someone ever ask you, you can say that the Bobo link has fly to the Pyrenees.
This are the kind of people, that remind me that I have the most beautiful profession on the world.
SAS Belco - World Green Coffee Merchants
Angel
Hey Marcos,
Hope you and your family are doing well today.
Jonathan Appleton called us today about getting a pound of coffee from us. He informed us that he has known you for 20 years. The reason that I am asking is that if he is affilated with you, then we do not want to charge him for the coffee. We want to be able to offer him the same respect as the members of FAF and BRASC have shown to our team. We have been very pleased with the quality of each bag that we have opened. We are glad to be a part of your team. Our roaster, Eli Ornberg, has been very pleased with everything. Ricardo from BRASC has been so helpful to us.
So, in short, if he is affiliated or has a relationship with you and your family, then we will send that out tomorrow to him at no charge.
Thanks,
Bean Werks Coffee & Tea
"coffee with personality"
Jonathan Jones
Director of Sales and Marketing
Main: 828.254.7766
cell: 828.772.1639
Hi :D
today the first container with the 310 Bags of FAF#128 arrived. The bags look so beautiful - AMAZING!
We're totaly happy, we have loaded out with 11 friends (customers and neighbars) and it was great. There was a little water damage, but the gran pro bags from this corner were completly fine.
We have sent the first 12 paletts out to the other roasters, who are part of the import and they all waiting and are happy to roast it.
We have done immediately six roasts on our little 1kg roaster and we will try the drip coffee samples tomorrow.
THANKS A LOT - IT`S A GREAT PLEASURE FOR US; TO HAVE THE NEW BOBO-O-LINK IN OUR ROASTERY.
Hug,
Steffi
Hallo Marcos, dear bobolink- farmers!
I'm very happy to roast and sell the bobolink-coffee. It`s a phantastic coffee with wonderful flavor and taste. The new harvest is very good. Thanks for your great job in brasil!
I hope, that bobolink- coffee many years will bring us joy and sucess.
I would like to come visit you soon.
Best regards from germany,.
Mitrostfrischen Gruben,
Ronny Alber.

HI Marcos,
I buy your beautiful Bob-o-Link Coffee through Ricardo Pereira. I've got a little roastery in Savannah, Georgia. I just wanted to tell you how much I love your coffee and all it stands for. Thanks!
James Spano
Cup to Cup Coffee Roasters

Hi Silvia!
I hope this email finds you well. I was at the big flea/antique market in Brooklyn last weekend on Sunday and I couldn't believe what I saw....AN FAF BOB-O-LINK BAG! I went running over to find out if they were selling your coffee. The girls working there said that they were selling a different coffee and they didn't know where the bag came from, of course I was very bummed to find this out.
I inquired a bit more and one of them said that they suspect they might have your coffee in their shop. They gave me the card of the shop, but I somehow misplaced the card that day.
Do you know who it might be in Brooklyn? I would love to know so I could go and have some of your yummy coffee.
Laura Grace Gamse
November 1, 2011
Oiy! Todo Ben?
It's been a long time and I'm sorry for that SIX months for me to contact you back? way too long. I sincerely apologize for that. Hopefully soon I'll have enough mental time to sit down and really write you so much to say. I still think of Brazil everyday and my experience there was what you said it would be 'an experience of a lifetime!' and it was. changed me more than you can imagine. So THANK YOU for letting me visit you and learn and work on the farm. I fell in love with it all and I believe more than ever.
First things first two days ago I went to visit Kevin at Theta Ridge so I could cup the new crop Bob - O - Links and other microlots. I HAD to taste what I saw this summer (or i guess winter for you...)
WOW
I was seriously impressed and amazed by the progression that you all have made the new blend is amazing. I know I may be a little biased since I was there watching it being put together and picked and sorted and cupped but regardless the cup is phenomenal. It shows in the cup what Bob - O - Link is all about I'm at a loss of words as to how much I appreciate and value all the work you all are doing down there it really is incredible when you look at the whole picture there have to be more 'bob-o-link' minded people in the world in order for it to survive. it is so essential to future generations what you are doing there.
Alex Kunzelman
March 04, 2011
Dear Marcos and all Bobolinks everywhere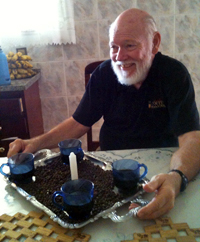 Bill Letbetter on his 70th
birthday at FAF
First, Marcos, thank you for your personal attention during my brief visit with you. Starting to know you has awakened in me feelings and ideas that I didn't even know were there! I'm blown away by the magnitude of your vision! I embrace your vision personally and hope I can become worthy of the name you gave to me. You and your ideas must continue to inspire. My time here has been such magnificently rewarded. I have been stimulated to action and strive to be a good bobolink. I shall return to your sanctuary.
Finally, to all bobolinks, we must do all we can to promote the dream worldwide, wherever we are.
With my love and most esteemed respect,
Bill Letbetter
September 22, 2010
Good afternoon, all! Boa tarde todos!
We write you from the warm, dry sunshine of Fazenda Ambiental Fortaleza. It is hard to believe we have been here for almost 1 month. After settling on the farm, 2 members of the Mococa regional bird watching club joined us for several days to start learning our Brazilian birds. As we are primarily experienced in Illinois birding in, you can imagine just how novel this experience is turning out to be. The colors, the songs, the habitats: what a perfect world to discover the relationship between these birds and the coffee farm.
Lauren Williams & Lauren Flowers
September 2010
Marcos,
Cheguei hoje apenas no Rio da minha viagem pelas fazendas com o Paul, Mikkel e a Yasuko. Com certeza foi uma das maiores experiências da minha vida, queria agradecer a vocês todos por toda atenção, carinho e cuidado com tudo.
Foi incrível provar todos aqueles cafés, nunca antes peguei uma mesa cheia de cafés interessantes...o trabalho de vocês é incrível e vou te dizer uma coisa que você já deve saber mas... O Felipe é a pessoa que toda fazenda deveria ter...incrível o trabalho dele...
Não sei se chegamos a conversar sobre isso mas há 5 anos atrás eu perdi um filho com 8 meses de gestação e a partir disso resolvi que viveria por prazer, por momentos agradáveis, então minha vida mudou, larguei tudo, carreira, profissão, comecei do zero, fui estudar cafés e hoje posso dizer que sou o cara mais feliz do mundo, faço o que gosto e 5 anos depois minha primeira filhinha nasceu.
Na FAF eu encontrei pessoas que fazem pelo café e pela vida algo muito semelhante ao que faço, o Projeto do Café Igaraí, o engajamento com as familias produtoras, o orgânico natureza e o Bob-o-Link...
Enfim, eu quero o Bob-o-link como o meu espresso season....eu quero formar, fazer parte desse link e trazer o bob-o-link ao Rio de Janeiro.
Grande Abraço
Leo Moco
September 2010

Marcos,
I simply wanted to put into words what our visit to your farm has meant to me. The time spent on your farm did more than give me a better appreciation for coffee growing standards, it rejuvenated my soul in what is the coffee industry. With your farm as our final stopping point along our journey, our group had already seen the very nature of the commercialized growing processes that seek to manufacture volumes of coffee versus quality of coffee. FAF, however was completely the opposite of that. It was a reversion back to simpler times, quieter times, and times where people sought to let nature control herself instead of humans controlling nature. The beauty of a coffee shrub that bends like it is supposed to and the knowledge that there is nothing unbeneficial going into those plants under the shade-grown canopies... Well, I consider that priceless, and I consider you one of the most visionary men on the planet towards this movement. The work you are doing of building community and a better tomorrow is to be commended, and I will forever cherish this first of many visits to your farm! Thank you for introducing us to all the families we met, too, as those smiling faces and warm embraces of the people...well, quite honestly, that is why I love this industry and do what I do!
All the best!
Troy Lucas
Lucas Roasting Company LLC


Marcos,
I arrived home safely today. I just wanted to thank you for your hospitality at your farm. I also want to let you know that is not often you meet someone like yourself in life. When I started Bodhi Leaf Trading Company I had a vision of a company that would approach business by making relationships and hopefully spread some sort of compassion and hope in this world, but I was not sure how to do it. You have given me inspiration and passion to approach the coffee business in ways I have only dreamed of. I am looking forward to sharing your vision with others and working by your side. I will never forget the kindness and peace I felt during my stay at your farm. You are truly someone I admire and I look forward to making a difference in the coffee industry and in this world with you. Thanks again and I am sure I will talk with you soon. In the meantime, be well.
Steve Sims
Bodhi Leaf Trading Company

Marcos,
Last weekend I was bird watching with my ornithology class in southern Illinois. We were driving down a road when, out of the corner of his eye, a classmate spotted something bright flying. We stopped our vehicle and piled out to watch a male bobolink calling atop a small tree. He was my first bobolink, and he was beautiful with a very excited and personable call.
I could only interpret the sighting as a good sign for the wonderful months to come. I send bobolink luck to you and Silvia!
abracos,
Lauren Williams
University of Illinois

Hello Marcos and Silvia,
We are getting settled back at home. Missing the farm, our trip was wonderful. More than we could have ever imagined. It was like a dream at the farm. It already feels like another home to us. All of the staff made us feel so welcome, just like family. We all felt so comfortable there. It was beautiful. The food was wonderful. Most of all it was the people. Meeting the farmers of Bob-o-link, the women of Cafe Igarai and all of the people who work on the farm. It definitely changed the way the kids and I look and our lives and our business. And all that you taught us about coffee, nature and the environment. We are so much better for everything we learned. The education was priceless. We can never thank you enough except to carry your message on to our customers and anyone else who is willing to listen.
We have already put the Cafe Igarai merchandise on display. It is awaiting some finishing touches. We are placing our first order for Bob-o-link coffee from Theta Ridge today. We are looking forward to launching to entire package as soon as possible. I have been trying to call Silvia, but I think I may have the number wrong because I have not been getting through. Silvia, Can you give me a call sometime soon so we can do some planning and catch up. I miss you!!!!
Hope all is well. Can't wait to see you guys.
Carol Harris
Casteel Coffee Evanston, Illinois
United States Barista Competition
Hello from St. Louis, MO! I'm Joe Marrocco, roaster/barista/barista trainer from Kaldi's Coffee Roasting Company. I was just wanting to touch base with you all and let you know that I am going to be using the Hamilton/Celso Coffee in this year's USBC. It is so balanced, rich and delicious, I can work with no other. Also, having worked side by side with Felipe Croce, I am so excited to promote what you all are doing in Sao Paolo and for Specialty Coffee.
Your holistic aproach is inspiring, and I hope to be able to inspire others in a few weeks.
Thanks for your commitment to quality and all of your hard work. We see it.
Yours,
Joe Marrocco